Caleb McDonald, INPEX Offshore Production Technician
For Production Technician, Caleb McDonald, working at INPEX has enabled him to pursue a fulfilling career as well as a vibrant lifestyle in picturesque Broome.
A Wajarri Nhanda Yamatji man, Caleb joined INPEX in early 2022 working on the Ichthys Explorer central processing facility (CPF). Prior to INPEX, Caleb successfully completed the four-year National Energy Technician Training Scheme (NETTS) through Programmed.  
"The NETTS program was fantastic. It gave me exposure to a wide range of aptitudes including mechanical, engineering, and electrical, as well as gaining relevant certifications," Caleb said.  
"Another valuable aspect of NETTS was the OEM equipment training where we spent time at different manufacturers to study how their equipment is constructed, understand tolerances, and learn how to fix and maintain the machinery. I found this component of NETTS extremely valuable in helping to understand the possible ways equipment could fail, whether chemical stress, corrosion or temperature related issues, and how to troubleshoot effectively." 
A self-confessed "rural boy" at heart, Caleb grew up in Geraldton and spent time in Broome as a young one, before moving to Perth during his high school years.  
"I was fortunate enough to receive a scholarship to study at Wesley College, so I lived in Perth during high school, during NETTS, and when I joined INPEX. After doing FIFO from Perth to the Ichthys CPF offshore facility near Broome for a while, I grew tired of the travel and city living so I moved to Broome with my partner." 
"I prefer smaller coastal towns to big cities. Broome is surrounded by nature, not too many people, no ones in a rush and you really get to slow down. I guess that's why they call it Broome-time! We love living in Broome and feel grateful we now call this place home," Caleb said.  
In his spare time on the CPF, Caleb enjoys learning how to play the guitar in the music room and, of course, enjoying the "top notch" food.  
Off swing, you'll find Caleb relishing in all that Broome has to offer. 
"I enjoy being outdoors. I spend my swings off fishing, diving, boating, mud crabbing, and camping with mates who own traditional blocks of land around the Kimberley," Caleb said.  
"The community here is another reason I love living I Broome. I enjoy supporting the community where I can.
During NAIDOC week this year I helped the local school teach kids how to catch fish and prepare for eating.
I was also lucky enough to represent INPEX at the Kullari NAIDOC awards earlier this year."
"It's great to see INPEX give back to the community and help fundraise for events like that. It brings a lot of people together." 
Between building a career at INPEX and his cherished leisure time in the coastal paradise of Broome, Caleb's story is a testament to the opportunities and experiences that Broome presents, where a fulfilling career and a vibrant lifestyle coexist harmoniously. 
When asked what he most enjoys about working at INPEX, Caleb said it's the people who have the biggest impact.  
"I work with a bunch of different people; different department, disciplines, cultures and personalities. I get to work with different teams, vendors and specialities. There's such variety in people's approach to a task, their cultures, and personalities. I find it really enjoyable to be involved with and learn from," Caleb said.  
To industry new entrants, or emerging young professionals, looking for a career like Caleb, his advice is simple. 
"Attitude is everything. Definitely need to have the right attitude, willingness to learn, and to be proactive. Some tasks may seem boring and bland at times, but when it comes down to finding issues, being thorough and approaching the task with the right attitude definitely helps," Caleb said.  
"It was also helps the wider team too. If you want to be there, the team will put more effort and time into helping you learn which then supports their development too."  
For more information visit inpex.com.au/careers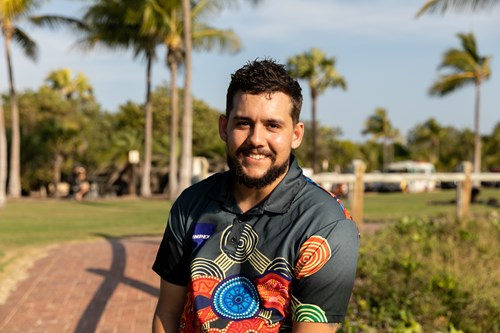 Caleb McDonald, INPEX Offshore Production Technician