Foodbank NT's school food drive
During a six-month period in 2022, INPEX-led Ichthys Joint Venture funded a pilot program
through Foodbank NT
which
provided 1,210 students with a hearty breakfast before school, setting them up for a successful day ahead.
Foodbank NT's School Breakfast Program saw 5,503 kilograms of food delivered with 18,052 breakfast meals over 10,750 kilometres across the Northern Territory (NT). 
The nutritious breakfasts, which are dietician-supported, are making a real difference in urban, remote and regional classrooms across the NT, with teachers reporting increased school attendance and improved learning behaviours. 
The Program was delivered in schools in Darwin, Palmerston, Katherine, Daly and Arnhem regions with students enjoying breakfast at school as far out as Laynhapuy in East Arnhem Land and Jilkminggan near Katherine.  
The success of the 2022 trial across 26 schools meant the delivery of vegemite and jam, toast, baked beans, milk and fresh fruit was increased to 47 schools in 2023.  
Foodbank NT Executive Officer Peter Chandler is thrilled the program has helped school attendance with class and school numbers growing and, more importantly, remaining more consistent than they were before they had the breakfast program.  
"It doesn't matter how good your school program is, unless you can get kids into school they are not learning,
and a school breakfast is a great way to get kids to school." 
"It provides food in their belly that's going to help the kids learn," Peter said.  
In October 2022, INPEX team members from Darwin, Perth and Tokyo joined Foodbank NT volunteers to cook up a breakfast barbecue feast for 200 community residents and students in Batchelor, Northern Territory to promote the benefits of the program to the local community. 
"I think by supporting Foodbank, INPEX and Ichthys LNG are wise in choosing a charity that makes a difference, because every cent stays in the Territory. 
"And when we think about the breakfast program, it is the next generation we are helping and through their investment, we are not only investing in today but also investing in tomorrow."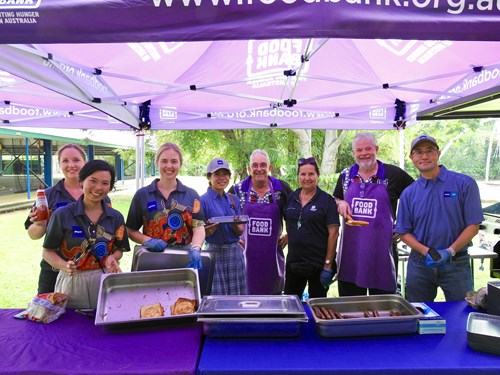 Team INPEX help out at a Foodbank breakfast barbeque