Taking up the opportunity of a coveted INPEX Production Technician Traineeship at the Ichthys LNG facilities in Darwin was a life-changing decision for former psychologist Hollie Smith. 
Hollie is one of more than 25 locals who have taken advantage of a two-year traineeship through the INPEX Production Technician Traineeship Program to gain extensive technical knowledge in hydrocarbon processing and support systems, while developing skills to operate process facilities. 
After studying a Bachelor of Psychology in Perth, Hollie transitioned into work health and safety roles for mining companies in the Pilbara, before taking up a position with INPEX's Health, Safety and Environment team and moving to Darwin in 2014.  
With support from her supervisor, Hollie's career trajectory changed dramatically when she was encouraged to enrol in a traineeship to complete a Certificate III in Process Operations as part of the INPEX Production Technician traineeship program. 
"It's definitely life changing, it's the best move I have made,
from a professional point of view I feel like I make a difference at the grassroots level."
Hollie spends her days on the Ichthys LNG product loading jetty in Darwin Harbour supporting the loading of LNG, LPG and condensate onto enormous carriers that sit as high as 10-storey (30 metre) buildings, and as long as three soccer fields (300 metres). 
Hollie says she loves the camaraderie of the crew and working outdoors suits her.  
"From a work-life balance, it allows me more time with my children during my three weeks off and being there on the weekend, it definitely suits my lifestyle," Hollie said.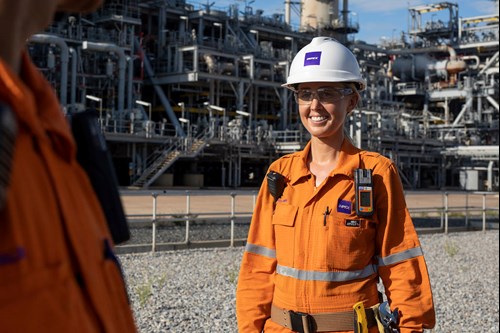 Hollie Smith on site at the Ichthys LNG onshore processing facilities