Darwin Harbour integrated marine monitoring and research program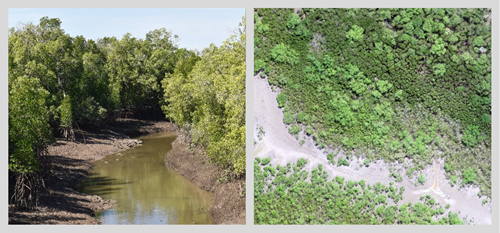 This is a long-term Northern Territory-run offset program which commenced in November 2014 and is ongoing until 2054 (40 years).


The scope of the offset program is to:


Increase confidence in the management of Darwin Harbour and the commitment of Harbour users to protect key values
Increase awareness and understanding of the influences on Darwin Harbour's marine condition
Provide sound, evidence-based assessments of change in Darwin Harbour, and triggering of appropriate and timely responses from regulators
Provide a better knowledge-base for improved environmental monitoring and management.
A full list of publications is provided below.
An integrated monitoring and research program for Darwin Harbour

Publication
Date
Link
Benthic sediment sampling campaign of Middle Arm and West Arm, Darwin Harbour (2020): Survey record and data report

2020/21

Development of an integrated long-term mangrove monitoring program for Darwin Harbour.

2020/21

Sediment quality assessment of Outer Darwin Harbour (2020): Survey record and data report

2020/21

Sediment quality assessment of East Arm, Darwin Harbour (2019): Survey record and data report

2019/20

Development of an Integrated Long-Term Sediment Quality Monitoring Program for Darwin Harbour

2019/20

Exploring the utility of unmanned aerial systems (UAS) to quantify mangrove biophysical parameters in Darwin Harbour

2019/20

Development of an integrated long-term mangrove monitoring program for Darwin Harbour. Sub-project B: Development of methodology to map mangrove forest extent using satellite sensors.

2018/19

Developing an integrated long-term monitoring program for Darwin Harbour. Anthropogenic pressure project: Development of pressure indicators for Darwin Harbour

2018/19

Developing an integrated long-term monitoring program for Darwin Harbour. Water Quality Pilot Project WP2: Intra-annual water quality variability.

2018/19

Developing an integrated long-term monitoring program for Darwin Harbour. Water Quality Pilot Project WP1: Neap tide trial.

2018/19

Development of an integrated long-term mangrove monitoring program for Darwin Harbour. Sub-project B: Mangrove community mapping – Charles Point to Gunn Point 2016

2018/19

Sediment Quality Pilot Project Plan

2018/19

Development of a long-term sediments monitoring program for Darwin Harbour: A final report on the Rod Surface Elevation Table – Marker Horizon Pilot project MP2

2017/18

Developing quantitative PCR assays to target microbial nitrogen cycle genes: A new tool to monitor ecosystem function in sediment,

2017/18

Water Quality Pilot Project Plan

2017/18

Mangrove Monitoring Pilot Project Plan

2017/18

Pressure Monitoring Pilot Project Plan

2017/18

Darwin Harbour mangrove sediment: metal and arsenic dynamics.

2016

A risk assessment of water quality pollution of Darwin Harbour using modelled catchment impacts on water quality.

2016

Interim turbidity water quality objectives for dry season neap tide conditions in Darwin Harbour.

2016

Review of research and monitoring of Darwin Harbour's mangrove environment for the development of a long-term monitoring program.

2016

Darwin Harbour Integrated Mangrove Monitoring & Research Program: Data collation project.

2016

Link available soon

Rod Surface Elevation Table Marker Horizon (RSET-MH) Handbook

2016

Link available soon

Optimising water quality monitoring using continuous flow monitoring.

2016

Link available soon

Addendum Sediment mass accumulation

2016

Link available soon

Monitoring and assessments of boundary fluxes in Darwin harbour

2016

Link available soon