Celebrating milestones
In May, INPEX held a celebratory event at Aboriginal Bush Traders in Garramilla (Darwin) to mark an exciting career milestone for nine trainees, now newly qualified Production Technicians.
The two-year trainee program, delivered by Programmed Skilled Workforce, combines on-the-job and classroom-based training, where participants gain a Certificate II and III in Process Plant Operations, as well as other important training including emergency response, high-risk licensing, first aid, and a suite of safety training courses.
Bruce Jarmyn, Production Technician, expressed his gratitude to the Larrakia Development Corporation (LDC) for providing an entry point to the energy industry. "LDC provided a pathway to my life-long goal, which I am proud to have achieved through my own hard work and commitment," Bruce said.
"At the end of the day, it's not about what I have accomplished, it's about who I may have inspired. I hope my journey will encourage other Indigenous people to step out of their comfort zone like I did.
"I'm excited to be starting this new career chapter with my team at the Ichthys LNG onshore facility," Bruce said.
General Manager Onshore Operations, Dave Dann praised the team on their achievements.
"I would like to acknowledge that our newly qualified Production Technicians commenced training during the COVID-19 pandemic, where the tempo was high, people were in short supply and our facilities underwent the first large-scale maintenance campaign."
"Your resilience and perseverance in the face of these challenges is a testament to your strength of character, which will undoubtedly serve you well in your future careers," Dave said.
Also recognised at the event, were the families who provided support and the Programmed Skilled Workforce team whose mentorship and encouragement played a major role in helping the trainees navigate through the program and reach this important milestone.
This year, nine Production Technicians have accepted employment with INPEX. Since 2015, 12 Aboriginal and Torres Strait Islander peoples have successfully completed their Production Technician traineeships, equating to 34 per cent of INPEX's overall trainee cohort of 35.
INPEX is proud to be delivering on its Reconciliation Action Plan commitments by supporting Aboriginal and Torres Strait Islander peoples with sustainable, developmental employment opportunities in the energy industry.
Interested in a career at INPEX?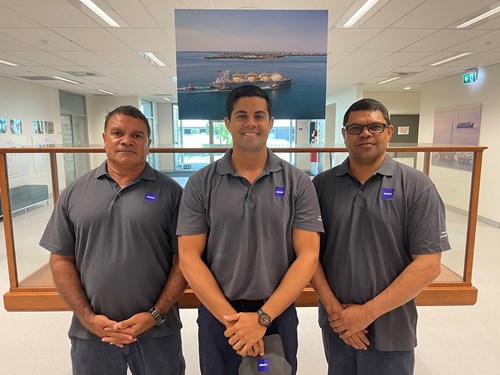 Left to right: Patrick Long, Riley Majid, and Bruce Jarmyn.