INPEX and Ichthys LNG have been safely transporting personnel offshore to the Browse Basin through Broome and the Dampier Peninsula for many years. 
The transfers are supported by the Broome Heliport, PHI Aviation (PHI) and Djarindjin Airport.  
PHI Aviation Broome base facilitates on average four to six flights a day for INPEX, with approximately 15 personnel on each flight. Between 2017 and 2023, PHI has safely transported a total of more than 125,000 INPEX passengers to offshore facilities supporting our energy business. 
Djarindjin Airport, the only fully Aboriginal-owned and operated airport in Australia, provides a crucial transit and refuelling facility for the personnel being transferred to the offshore facilities. 
A contract for search and rescue (SAR) and medical evacuation (medevac) services is jointly contracted by Shell and INPEX with PHI. The Royal Flying Doctor Service is contracted through PHI to provide medical support and personnel to the SAR/medevac contract. 
The medevac and SAR helicopter is the most technically advanced in the southern hemisphere, with sensors and equipment that enables rescues to be conducted in the worst weather, day or night. In the medevac mode, the SAR helicopter acts like a sophisticated flying ambulance with medical staff, to retrieve people from their offshore workplace and bring them to hospital care in under six hours. This gives our people offshore a great deal of confidence that they are well cared for and can safely return home to their families.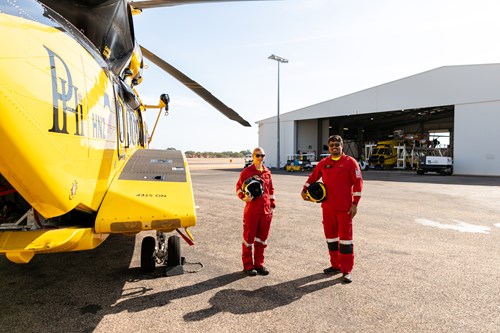 PHI Aviation Broome Base