We welcome community feedback.
Feel free to contact us via:
INPEX believes effective community engagement is essential to forging trusted and strong relationships within the communities in which we operate, which are in turn essential to our success and business growth.
We are committed to establishing, building and maintaining community relations in areas where we operate including Darwin – the location of our onshore LNG processing facilities, and the Kimberley region – which supports logistics activities for our offshore facilities and activities.
We engage and work closely with stakeholders and ensure information is readily available to the community, as well as providing mechanisms for feedback and response.
For the year to 30 September 2020, we received more than 600 enquiries from communities.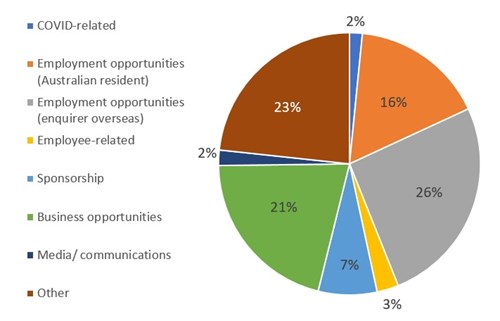 More than 42 per cent of these enquiries related to employment opportunities – of those, 16 per cent represented enquiries from Australian residents and 26 per cent of enquiries were from people residing outside Australia.
21 per cent of enquiries related to business opportunities, and seven per cent regarded sponsorship opportunities.
COVID-19-related enquiries through these channels from business, community members and the media constituted two per cent of enquiries received over that period.
Concerns from community members makes up less than one per cent of all enquiries received and any concern or complaint is thoroughly investigated. To date, all matters have been resolved.
All enquiries received from community members are documented. We work with our stakeholders to address feedback in a prompt and consistent manner.