We welcome community feedback.
At INPEX, we believe effective community engagement is essential to forging trusted and strong relationships within the communities in which we operate.
We are committed to building and maintaining positive relationships our key communities including Darwin – the location of our onshore LNG processing facilities, and the Kimberley region – which supports logistics activities for our offshore facilities and activities.
We engage and work closely with stakeholders and ensure information is readily available to the community, as well as providing mechanisms for feedback and response.
In 2022, we received more than 350 enquiries from communities.
More than half of these enquiries related to employment opportunities – of those, 38 per cent represented enquiries from Australian residents and 22 per cent of enquiries were from people residing outside Australia.
Just over five per cent of enquiries related to business opportunities, and four per cent regarded sponsorship opportunities.
Concerns from community members makes up less than one per cent of all enquiries received and any concern or complaint is thoroughly investigated. During this period INPEX did not receive any community complains of note nor any environmental enquiries regarding Ichthys LNG operations. 
All enquiries received from community members are documented. We work with our stakeholders to address feedback in a prompt and consistent manner.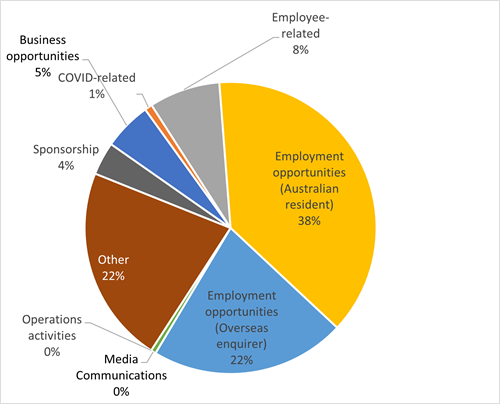 Please feel free to contact us via: