Making a real difference - our community imperative
Trusted relationships with the communities in which we operate is fundamental to our social licence to operate at INPEX.
Recognising that all Australians have a stake in Ichthys LNG, our programs focus on three principal locations: the Northern Territory and the Kimberley region and Perth, in Western Australia.
This work focuses on collaboration and shared two-way engagement with our business contractors, local industry associations, government authorities, residents, community partners and Aboriginal and Torres Strait Islander peoples. 
Communities and INPEX have engaged in thousands of hours of hands-on planning right from the start of Ichthys LNG back in 2000.
Our most important objectives are:
Provision of jobs and business opportunities for local people
Education and training for people with the potential to play a role in Ichthys LNG
Respect and support for Traditional Owners in areas of operation
Support for community organisations
Constructive and transparent relationships with governments.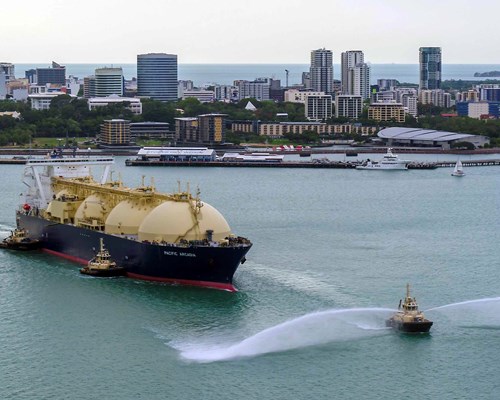 Northern Territory
The  Territory's capital, Darwin, is home to our onshore LNG processing facilities and support facilities at Bladin Point.
National and international attention turned to Australia's most northern capital city in November 2018 when celebrations, to mark the commencement of Ichthys LNG production, brought together two Prime Ministers. The Prime Minister of Japan, His Excellency Mr Shinzo Abe and Australian Prime Minister, the Hon. Scott Morrison MP offered their congratulations and support for the global project. 
Employment and business
'We're here for the long haul' means we're committed to long-term employment and business partnerships with Territorians. An ACIL Allen economic assessment has forecast a potential 600 new jobs a year over the life of Ichthys LNG. We want to make sure as many as possible go to the Territory. Ichthys LNG is forecast to generate around AUD$ 2.6 billion in tax revenue for the Territory.
Education and Training
More than AUD$ 9 million has been invested in education and training facilities, with potential for people to further their studies or create a successful career in our industry.
Our partnership with Traditional Owners
The formation of the historic Larrakia Ichthys Foundation Trust agreement directly supports Larrakia people for at least 40 years. And, the INPEX Larrakia Advisory Committee is going strong and will continue throughout the four decades of Ichthys LNG's operations.
Snapshots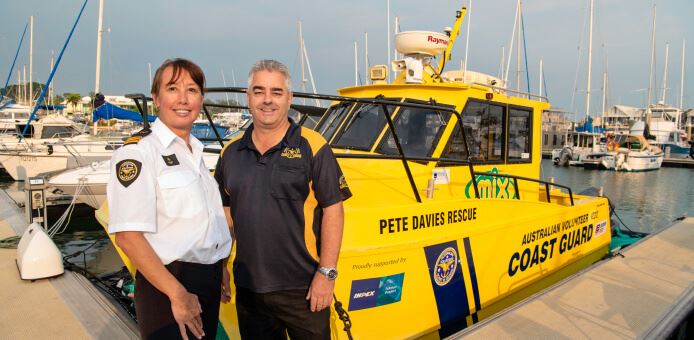 Coast Guard funds save lives
Sponsorship support from Ichthys LNG is helping the Australian Volunteer Coast Guard in Darwin to operate one of the community's most important safety services.
Coast Guard Darwin has around 40 volunteers who operate safety programs and rescue missions for recreational boat users.
The volunteers help the Northern Territory Police in marine searches and rescue patrols in an area bounded by North Gutter, Peron Islands and Cape Hotham.
A Registered Training Organisation, Coast Guard Darwin delivers a range of safety programs and activities including radio courses, navigation aids and marine safety procedures.
Volunteer Coastguard Flotilla Commander, Ms Fiona Villaflor, says Ichthys LNG's support has been vital for operation of the Australian Volunteer Coast Guard.
"Ichthys LNG has been one of our most valued contributors for many years," Ms Villaflor said.
"This support helps fund the fuel we need for our rescue vessel and the delivery of a range of training programs for local boat operators."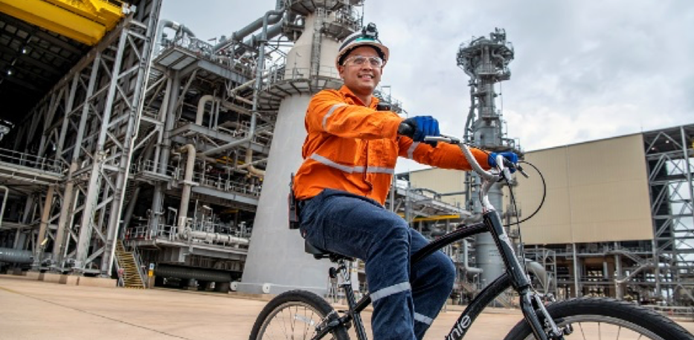 Onshore pedal power
The Onshore Operations team at Ichthys LNG is getting around, and getting fit, thanks to 80 new bicycles which are helping to reduce the use of vehicles across our plant site.
The single-speed bikes, supplied by local business Cycle Zone, are used by the maintenance and production teams to travel around the site safely and efficiently.
The Cycle Zone team identified bikes best suited to the task and sourced trailers suitable for tool equipment trays.
Cycle Zone's Nick French is delighted by the opportunity to support the INPEX onshore team.
"As a locally owned small business, it's fantastic to supply the guys and girls at INPEX with new bikes. The feedback is excellent with some of the staff coming in to purchase the same bikes for their personal use."
Western Australia's role in Ichthys LNG
The unique northern town of Broome and the dynamic resource city of Perth form the connection to our significant economic and social contribution to Western Australia.
Broome is the logistics hub onshore for the Browse Basin gas resource which underpins our Ichthys LNG operations. INPEX has a stake in several oil and gas operations off the Western Australian coast, giving our business a significant role in the energy sector.
As a result, we enjoy strong links with Western Australian communities, identifying four social outcome themes for our community contributions:
Education and training
Health and wellbeing
Local business and community
Community commitments.
In Broome, we contribute directly to the local economy, supporting 70 local businesses.
INPEX is a proud member of Broome's Chamber of Commerce and Broome Visitors' Centre. We're the biggest customers of Broome Port and Broome International Airport (BIA) where operations personnel transit via the Djarindjin Aboriginal Corporation refuelling facility to the Ichthys LNG offshore operations. BIA is also home to our medevac and search and rescue helicopter, which is available for community use when not required operationally.
Our other sponsorships include Broome's Primary School and North Primary School, Shinju Matsui, the Taste of Broome and the Chinatown Christmas trails. We work with other sponsors supporting local artists June Djiagween and Herbie Marshall on the Chinatown Revitalisation Project.
INPEX also enjoys contributing to Broome secondary education supporting the Broome Girls Academy.
In Perth, it's fitting that INPEX's largest operation in the world has our biggest headquarters where business and technical leaders run our successful energy enterprise.
Perth has more staff than any other INPEX location – including the company's Japanese headquarters in Tokyo.
It's expected Ichthys LNG will generate, on average, 1,100 full time equivalent (FTE) jobs for the next 40 years in Western Australia.
Snapshots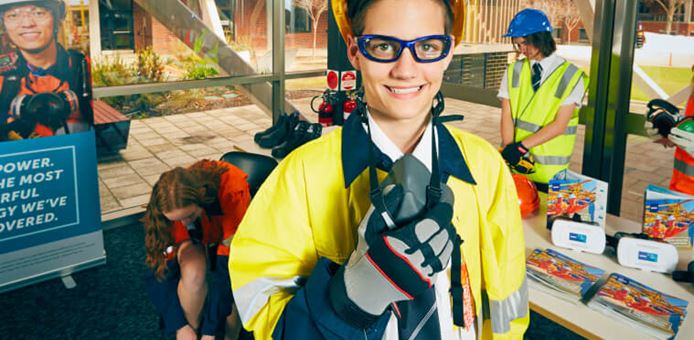 Next Generation program
School students in years 8-10 are being introduced to the oil and gas industry in fun, interactive and educational ways, through the Western Australian Petroleum Club's 'Next Generation' school mentoring program.

INPEX-operated Ichthys LNG has proudly sponsored the Next Generation program since 2015, and in this time the program has developed significantly, expanding its reach to more than 650 students from 18 schools including three regional schools: Dongara, Jurien Bay and Busselton.

During the mentor visits, students participate in interactive experiments and learn about the range of ways we use oil and gas in our daily lives – as well as how to sustain our industry for future generations.

Students also have the opportunity to speak with panel mentors about their industry experiences. Mentors take students through an oil and gas project lifecycle and the diverse range of careers required for the project stages.

The 'Next Generation' program introduces and explains the vital role of oil and gas in society and the diverse range of career options.

INPEX team members from various disciplines and with varied experience have joined other industry participants as mentors in the program, providing professional insights to the next generation with the goal of inspiring them to pursue oil and gas industry careers.
Search and rescue helicopter
Western Australia's Kimberley is the closest mainland region to the Ichthys operations and it's in the town of Broome where our all-weather search and rescue helicopter is based.

The helicopter and its highly trained medevac and search and rescue crews provide a critical element that support our commitment to safety and health.

The medevac/search and rescue helicopter is the most technically advanced in the southern hemisphere.

In medevac mode, the helicopter supports people who require medical support at work on the Ichthys LNG offshore facilities. The helicopter is launched quickly and can transfer a person to hospital in six hours. This gives our people working offshore a great deal of confidence that they are well cared for, given our offshore facilities are so far from land.

The helicopter has also been released by INPEX for emergency community situations when called on by the Australian Maritime Safety Authority (AMSA) or other emergency authorities, provided this does not place at risk INPEX personnel.